Uzbekistan Culture: Ancient Heritage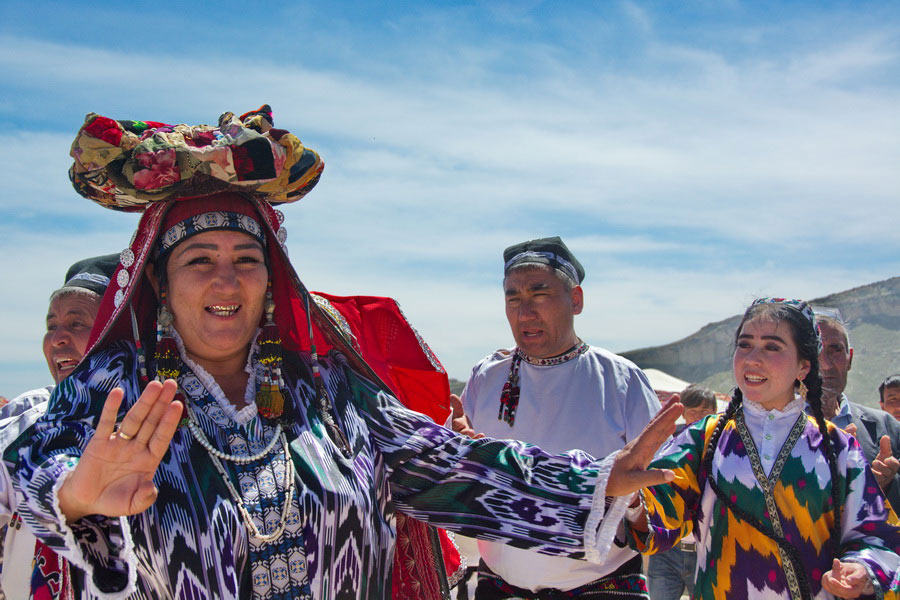 Uzbekistan culture is very colorful and distinctive. It has been formed over millenniums and has taken in traditions and customs of various nations settled on the territory of today Uzbekistan.
The main contribution to the development was made by ancient Iranians, nomad Turkic tribes, Arabs, Chinese, Russians. Traditions of multinational Uzbekistan reflected in the music, dances, fine art, applied arts, language, cuisine, and clothing. The population of the republic, especially rural population revere traditions deeply rooted in the history of the country.
The Great Silk Road played a great role in the development of Uzbekistan culture. Being the trade route, it ran from China to two destinations: the first one was to Ferghana Valley and Kazakh steppes and second route led to Bactria, and then to Parthia, India, and the Middle East up to the Mediterranean Sea. The Silk Road favored exchanging not only goods but also technologies, languages, ideas, religions. Thereby the Great Silk Road led to the spread of Buddhism on the territory of Central Asia, where you still may find traces of Buddhist culture: Adjina-tepe in Tadjikistan, the Buddhist temple in Kuva, Ferghana Valley, Fayaz-Tepa near Termez in Uzbekistan and etc.
Uzbekistan Fine Art
Oriental craftsmen always were renowned for own peculiar fine talent, which is shown in full in decoration and adornments of magnificent palaces, mausoleums and other religious buildings. As a rule, general fine art works include ornament, patterns and calligraphy. Islamic traditions forbid to image people and animals, therefore craftsmen started developing more abstract directions, bringing them to perfection. Later a new direction appeared in Uzbekistan fine art. It was the miniature, small bright colorful pictures lacquered, which decorated palaces and rich houses.
Uzbekistan fine art was in unbelievable flourishing during the general cultural boom in 14-15th centuries, the epoch of Timurid Dynasty. Ancient Samarkand mausoleums preserved details of wonderful landscape paintings. Some palaces of Amir Temur were decorated with scenic pictures of Tamerlane, his wives, sons and associates and scenes of rich feasts. The great medieval artist was the inimitable master of oriental miniature Kamoliddin Behzod.
The next rise of Uzbekistan fine art dates back to the 19th century. The miniature art reaches its highest flourishing. It is glorified by Akhmad Donish (1827-1897), Abdulkhalik-Makhmum and others.
Uzbekistan fine art of 20th century developed under the influence Russian painters Itinerants. Their outstanding works furthered the development of oriental school of portraits and landscapes, development of realism genre in painting art. You can get acquainted with the works of modern masters by visiting the Gallery of Fine Arts, the most modern exhibition hall in Tashkent. The Art Museum, whose Grand Duke Nikolai Konstantinovich Romanov' s collection of pictures of European painting lay the foundation of the richest expositions, as well as many other art galleries and museums of Uzbekistan. The judges of art must visit the Savitsky Art Museum in Nukus, displaying over 90,000 exhibits including a collection of Russian avant-garde, fine arts of Uzbekistan, arts and crafts of Karakalpakstan and art of Ancient Khorezm.
Uzbek Literature

At the development basis of modern Uzbek literature is rich folklore – speakings or oral folk arts. The people wrote and handed down heroic epics, whose characters were heroes, presented in the images of evil forces, who were fighting against their oppressors and enslavers. This is the way how epics of Uzbek folklore, such as "Koroghlu" and "Alpamysh" were created.
Alpamysh, which tells the story of courage and bravery of the Uzbek warriors, survived centuries and became a real monument of oriental literature.
Another genius of people's art is a cycle of latifas – tales and legends about Effendi – Hodja Nasreddin, a deft, witty dodger, who gives lesson to the greedy rich and the powers that be with his mischievous pranks.
The XI century featured a host of works, based on religious norms of Islamic morality They are the insightful poem "Kugadau Bilig" ("Knowledge of Grace" or "The Science of Happiness") (1069) by Yusuf Khas Khadjib Balasaguni (Yusuf Balasagun), the poem "Hibat al-Haqa'iq" ("The Gift of the Truth") by Akhmad Yugnaki, and, of course, "Dictionary of Turkic Dialects" (1072-74), compiled by Makhmud Kashgari.
The golden age of Uzbek literature fell on the historical epoch of Amir Timur and his dynasty. Its popularity is attributed to the fact that the works become more secular and free from excessive religiosity. It is that period, when the great oriental poet, philosopher and politician Alisher Navoi, who is considered to be a classic of Uzbek literature and founder of the Uzbek language, was flourishing. His immortal works –"Chordevon" and "Khamsa" are included in the thesaurus of world literature and translated into hundreds of the world's languages.
The last of the Timurid dynasty, the founder of the Great Mogul state in India, which existed for two centuries, Zahiriddin Mukhammad Babur was not only a talented ruler and commander, but also notable as an outstanding poet of the time. His epic poem "Baburnama" which describes his biography, and history of the peoples of Central Asia, Afghanistan and India, became a chef-d'oeuvre of Uzbek literature, valuable historical and literary monument of the time.
Uzbek literature of the XVIII-XIX centuries is lyric and mainly devoted to love. During this period were flourishing such poets as Nadira Uvaisi, Mashrab, Khorezmi and so on.
At the end of the XIX and beginning of the XX centuries, after the annexation of Turkestan to the Russian Empire began a new modern period of Uzbek literature; which was presented by outstanding persons such as poet Mukimi and writer, poet and satirist Furqat. The Soviet era gave us such talents as poet and playwright Hamza Hakimzade Niazi, poet and writer Sadriddin Ayni, the first Uzbek novelist Abdullah Kadiri, writer and philosopher Fitrat – both of them were repressed under Stalin. Their literary traditions were continued by Oybek, Gafur Gulam, Abdulla Kahhar Khamid Alimjhan, Uygun and others.
Uzbek Music
Traditional Uzbek music has ancient sources. Folklore Uzbek music which came from the people is divided into many genres.
Among them are lullabies and children's songs as well as ritual, work, daily life songs, songs-dialogues, dancing and lyric fados.
Classical Uzbek music is makom – a special musical genre, which is characterized by drawling touching performance. Many lines of the poets of the East (Jami, Navoi, Fuzuly, Hafiz, Uvaisi, Nadira, Mukimi Ogahi, etc.) were put to this music. The UNESCO has included "shashmakom", traditional Uzbek and Tajik music in the List of masterpieces of oral, intangible cultural heritage of the mankind.
The diversity of folk instruments also confirms the wealth of Uzbek musical tradition: bowed – gidjak, kobuz, setor and sato; fretted – dombra, dutar tanbur, ud and rubab; stringed hammered string – chang; wind-reed – sibizik, bulaman, surnay and koshnay; wind flute – nai and gadjir; brass – karnay; drums – doira, nagora,, chindaul, safail, koshuk etc.
Uzbek Handicrafts and Applied Art
The applied art of Uzbekistan is original and exclusive creative work of national craftsmen and masters, passing their skills from generation to generation. Putting their hearts and souls into works, for many centuries, they have created unique pieces and articles: housewares, house adornment, inimitable fabrics for dressy dresses, colorful tableware.
The works of Fergana, Samarkand, Bukhara, Khiva and other masters have been historically notable outside the country and still continue to stir interest of lovers of the beautiful from all over the world. Many schools of suzané embroidery and ceramics, skullcaps of different type and purpose, national pichak-knives for every occasion, silk and woolen carpets, silk and chasing – the wonderful works, produced by local masters for centuries, make a unique exoticism of Uzbekistan.
Sui generis centers and schools of folk arts and crafts were formed in the territory of Uzbekistan for centuries. Each region has its own direction. Chust, Namangan region, is widely known for its skullcaps and knives; Rishtan, Fergana region, turquoise ceramics; ancient Margilan, satin with iridescent play of colors; sacred Bukhara, gold embroidery.
Uzbekistan has been developing arts and crafts from century to century, handing down the unique works of famous and unknown artists, which strike with the wealth of artistic imagination and perfection of shapes.
Traditional Uzbek dance: arts and schools of Uzbek dance
National Uzbek dance is very expressive. It presents all the beauty of nation. The main difference of Uzbek dance from dances of other Eastern nations is the accent on complicated and expressive hand gestures and animated facial expressions. Uzbek dance includes two categories: classic traditional dance and folklore dance.
Classic traditional Uzbek dance is the art, studied in choreographic schools and demonstrated on a stage. There are three schools of Uzbek dance: Ferghana, Bukhara and Khorezm. Ferghana dances are differed with softness, smoothness and expressiveness of gestures, light sliding step, original motions. Bukhara dance is distinguished with sharpness of gestures, leaned back shoulders and very beautiful goldwork costumes. Khorezm style differs with original and distinctive motions.
Folk Uzbek dance includes traditions of almost any region and displays wonderful variety. People dance them on weddings and family holidays, rural and urban events. These dances are handed over from generation to generation and preserve ancient dance traditions as well as today and past lifestyles.